Wyatt reaches her biggest audience yet, when Rachel and her Wyatt Lily boutique lands in People magazine!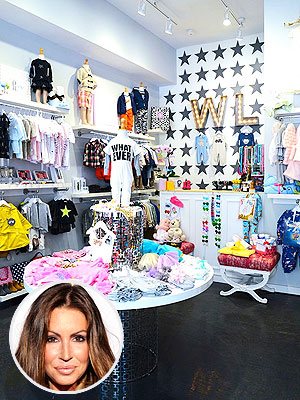 People Magazine, the country's top celeb news weekly, made a visit to Wyatt Lily and spoke to owner Rachel Uchitel about what she calls her "dream job." People even had Uchitel pick out some of her favorite boys and girls clothing items from her adorable boutique, including a sparkly tutu from Oh Baby and T-shirts and onesies from Nununu Baby –a trendy brand she says people are freaking out over. Uchitel may be a former nightlife industry veteran, but the way she runs the store, proves she's a fashion-forward retail pro, too.
Serving as her main inspiration, her little one has helped her come up with ideas for her own line of girls basics, including tanks, T-shirts and faux leather leggings. Charming toddler Wyatt Lily also loves anything sparkly and anything that moves with her—both easy styles that mom has proudly incorporated to the inventory in her store. A stunning, stylish woman herself, Uchitel took her fashion sense, business and hospitality knowledge and even former nightclub client connections to help the growth of her popular boutique. And it looks like it's working! People calls the Upper West Side-located Wyatt Lily "a bright and cheerful shop that carries everything from clothing to gifts for moms with a hip style sensibility."
Uchitel says another cool find is baby socks and shoes from Me-in-Mind. She says if you lose a sock, there's an 800 number to call and a replacement sock will be sent to you for free! "It's life-changing," she told People. "They should have it for adults."
Uchitel looks forward to seeing both new moms, regular clients and, ironically, some of her former clientele that now frequent her shop. She's thrilled these relationships have transferred over to her new passion for fashion—and all things kids!